A Night Like This
Teatro ZinZanni, Seattle 2019
Since opening at its new home last fall, Teatro ZinZanni has returned to presenting a rotating cast of international circus talent and is announcing the last of its 2019 limited engagements, A Night Like This. In the latest twist of cirque, comedy, and cabaret, the one and only Christine Deaver returns to the tent with a reprise of her popular character Penelope Wilde. Joining her as Mr. ZinZanni is Seattle-raised musical-crooner Cunio (of Postmodern Jukebox fame) who has, more than once, been described as the spawn of Freddie Mercury and Janis Joplin.
The show is directed by Artistic Director Reenie Duff, long-time head of Teatro ZinZanni's casting and the multi-talented Tobias Larsson, last seen performing in Teatro ZinZanni's Dinner at Wotan's and Tommy Tune's Bonsoir Lilliane! A Night Like This runs September 12 – February 9, 2020 at Teatro ZinZanni's world headquarters in Woodinville, Washington.
"A Night Like This is a celebration of timeless elegance and an explosion of beauty; an evening filled with madcap comedy, powerful vocals, evocative dance, stunning feats of athletic prowess…..and as always we are thrilled to present some fresh new faces in our magical tent," said Duff when describing the new production.
Deaver and Cunio are joined by first-time Teatro ZinZanni performers Nathan & Isis, a gravity defying dynamic hand balancing duo and roller skating act sure to make audiences jaws drop. Speaking of exceptional partner acts, A Night Like This welcomes back the seductive Seattle based trapezists Duo Madrona to the tent. The cast also features internationally recognized contortionist Vita Radionova, prima ballerina turned hoop aerialist Ariana Lallone, and jaw-dropping strap aerialist Ling Rui.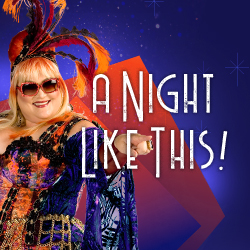 Ghost – The Musical
Tivoli Garden, Copenhagen, Denmark 2019
GHOST er en af det 20. århundredes største kærlighedshistorier – et romantisk drama om ægte, evig kærlighed. Glæd dig til en medrivende musical, der taler til alle sanser – hvem husker fx ikke hittet Unchained Melody fra den smukke og ikoniske dreje-scene. Forrygende Frederikke Vedel og Mikkel Moltke Hvilsom har hovedrollerne som det legendariske par – og Johannes Nymark som deres ven Carl.
Oplev også Jesper Asholt, Sara Gadborg, Mikkel Vadsholt, Joachim Knop og mange flere bakket op af et stort live orkester.
Medvirkende: Frederikke Vedel, Mikkel Moltke Hvilsom, Johannes Nymark, Sara Gadborg, Jesper Asholt, Joachim Knop, Mikkel Vadsholt, Christina Elisabeth Mørkøre, Astrid Højgaard Lundgreen, René Wormark, Yasmin Elvira Steenholdt, Jonas Suurballe Christensen, Oliver Aagaard-Williams, Asbjørn Hagen, Robert Thomsen, Mike Gamble, Lea Palme Skriver, Elina Westberg, Rasmus Grandt, Caroline Gustafsson, Linda Holmgren og Anna Solberg.
Castet akkompagneres af et live orkester af 9 musikere under ledelse af Mikkel Gomard.
Manus, musik og sangtekster: David Stewart, Glen Ballard and Bruce Joel Rubin
Rettighedshaver: Bruce Joel Rubin and Paramount Licensing, Inc.
Instruktør og koreograf: Tobias Larsson
Medinstruktør: Carsten Friis
Kapelmester: Mikkel Gomard
Scenograf: Rikke Juellund
Lysdesign: Mathias Hersland
Lyddesign: Jonas Jørgensen
Dansk oversættelse: Thomas Bay og Helle Hansen
Producent: Heltemus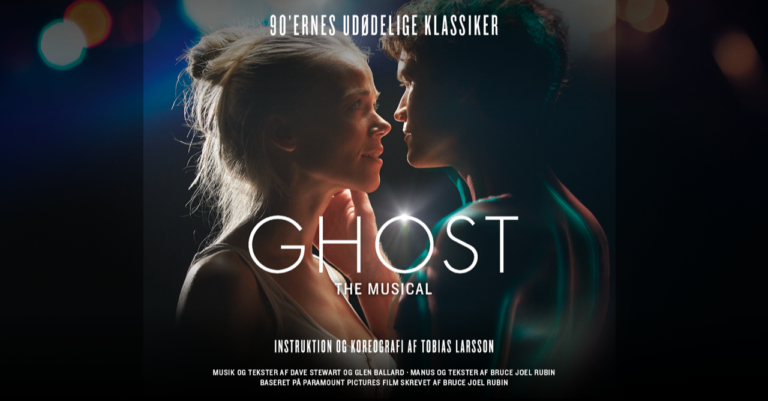 The Hot Spot!
Teatro ZinZanni, Seattle 2015                                 
Bang! 2015 is off and running as Teatro ZinZanni gears up for a new show changeover in the illustrious speigeltent off Mercer Street. What began as sketches, brainstorms and a casting wish list some 10 months ago, transforms this month into a spectacle rich with music, food, dance, and most of all, love. With co-direction by Teatro ZinZanni founder Norm Langill, long-time performer and exquisite improvisational artist Kevin Kent, and director/choreographer Tobias Larsson, The Hot Spot stars Northwest-native and international cabaret star Lady Rizo in her Teatro ZinZanni debut alongside Seattle favorite Frank Ferrante, acclaimed aerialist and choreographer to the stars Dreya Weber, vaudevillian Wayne Doba, acrobat-dancer Andrea Conway Doba, funny-man Joel Salom, and show-stoppers, Vertical Tango.
"Lady Rizo is an incredible story-teller and improvisationalist," co-director Tobias Larsson commented. Larsson is a long-time collaborator, creator and performer within the ZinZanni family and is part of the team that brought Lady Rizo to the tent. "It's a new thing to have someone like Lady Rizo in this show – she brings a new, dynamic style of comedy all her own. The creative process at the tent can be a whirlwind experience for those who haven't done it before, but she is game for everything and has thrown herself whole-heartedly into the zany world of ZinZanni." Lady Rizo may have a knack for improv, but combine that skill with her high-energy belt voice and you may just find yourself bewitched. In The Hot Spot, she will perform renditions of "I Only Have Eyes for You," a mash-up of "Sweet Dreams" and "Tainted Love," an original song of hers she wrote especially for this show with Teatro ZinZanni music director Hans Tueber, and a selection of other popular tunes.
The buck doesn't stop with Lady Rizo; from out on stage, to behind the scenes, Teatro ZinZanni bleeds mega talent. Swedish born Tobias Larsson has returned to the tent to co-direct and choreograph The Hot Spot. An actor, singer, dancer, circus and cabaret performer, choreographer and director, Tobias made his international debut at Lido de Paris and toured Europe with several shows including performances with Tina Turner and Olivia Newton-John. Most recently he co-directed Hail Caesar: Forbidden Oasis at Teatro ZinZanni in 2013, and since we last saw him at the tent, he has been reunited with Tommy Tune in New York City where they're currently developing a new production for Broadway.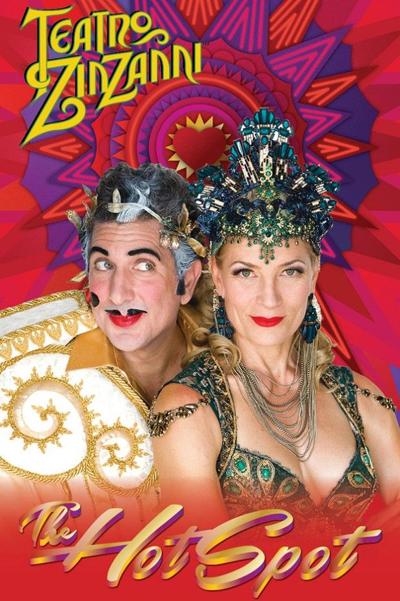 Lucky in Love
Teatro Zinzanni, Seattle, May 16, 2013
Everyone wins at Casino ZinZanni! But colossal jackpots equal big trouble for the house. Proprietress Ruby is betting that her casino could hit the big time with a stellar show and a chance to win the GRAND PRIZE. Willing to wager that crooner Ricky La Rue is just what the casino needs, Ruby offers the ultimate jackpot: a suitcase full of money! Acrobatic mimes, juggling dealers, high-flying love birds, and a contortionist cat burglar give Ruby more than she bargained for. 
The stakes have never been higher and as the old saying goes, if you are unlucky at gambling at least you're Lucky in Love!
"I am always impressed by the sheer logistical challenge of making this kind of evening run smoothly and I admire chef Erik Carlson, and the creative team, Norm Langill, Reenie Duff, Joe De Paul, Tobias Larsson, and Hans Teuber, for pulling it off consistently night after night."
J. Autumn Needles, Edge Boston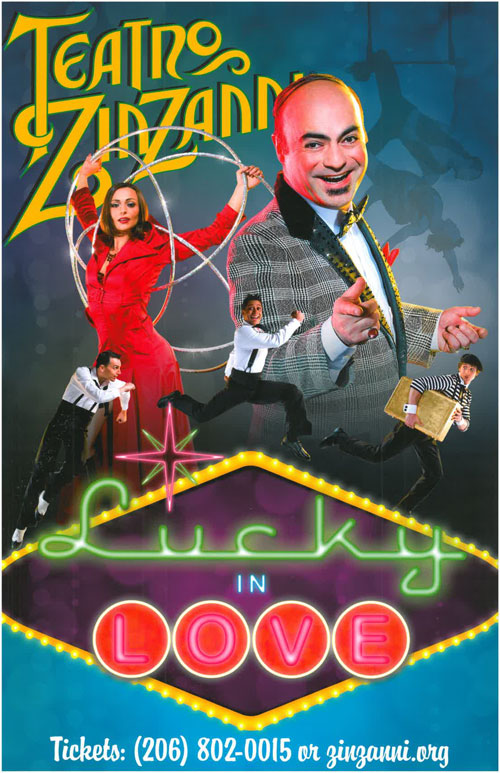 Dinner at Wotan's
Teatro Zinzanni, Seattle, May 12, 2013
Teatro Zinzanni takes a new and bizarre twist on the stories of Nordic gods. Wotan, Thor, Freya and the gang in Valhalla celebrate the end of the world! Dinner at Wotan's is co-directed by Teatro ZinZanni founder Norm Langill and Swedish triple threat and Seattle rising star Tobias Larsson (Return To Paradise, 2012; co-choreographed Bonsoir Liliane! with Tommy Tune, 2011) who will also direct/choreograph and star in this production.
Hailed in the New York Times as an offbeat delight and soon to be featured on the Food Network's 'World's Weirdest Restaurants' in Spring 2013, Teatro ZinZanni, now in its 15th year in Seattle, continues to present a locally produced cirque-themed dinner theatre experience brimming with the finest local and international talent of all varieties. Dinner at Wotan's is an electric mix of fresh performances, like Swedish superstar Anki Albertsson, and impeccable repeat acts like Vertical Tango, back my popular demand, and the incredible return of performance veterans Los Excéntricos, a group who performed in Teatro ZinZanni's opening show in 1998.
An ode to the Northwest's Nordic community, Dinner At Wotan's will musically rock the tent, presenting a hybrid of the classical sounds of Wagner's The Ring and big, epic rock sounds, like Queen's 'Bohemian Rhapsody'. "A lot of rock tunes live very close to classical pieces, so we're trying to mix that classical world with the rock, and course, with our own Durkee-ZinZanni style," co-director Tobias Larsson commented. The music of Dinner at Wotan's is composed by legendary Teatro ZinZanni musical composer Norman Durkee with lyrics by Martha Davis (Hail Caesar!), long-time front woman for the new wave band The Motels, best known for such hits as "Only the Lonely" and "Suddenly Last Summer."
"…if Wagner-meets-Monty Python is your goblet of mead, expect Viking gags, zany audience participation bits — plus a clever musical jam-up of "The Ring," Swedish folk ditties and 1980s chart-toppers. As Queen asked, Who wants to live forever? Wotan and his gang of immortals, of course."
– Misha Berson, Seattle Times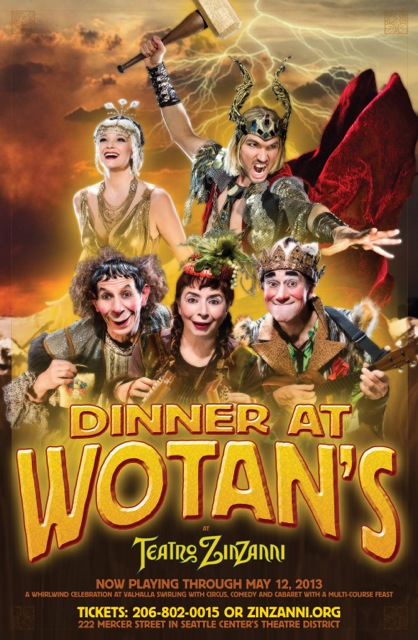 Return to Paradise
Teatro Zinzanni, Seattle, Oct 4, 2012
Though many (if not all) of Teatro ZinZanni's productions have not been site specific, allowing for productions in Teatro ZinZanni venues in both Seattle and San Francisco, the fall 2012 Seattle spectacular Return to Paradise is tailored to our fair city. With a whimsical time-travel framed tale, Return to Paradise is set at the Seattle World's Fair of 1962, specifically spoofing that fair's notoriously bawdy burlesque attraction "Paradise International," which entertained adult audiences nightly, while visions of Space Needles and futuristic scientific marvels danced in the sleeping heads of their kiddies.
Joining Gracie (Christine Deaver) at the Paradise are 1960s Seattle cultural icons Bruce Lee (acrobat Christopher Phi) and an up-and-coming Jimi Hendrix (guitarist Thaddeus "Thadillac" Turner), as well as Elvis Presley (Big Mike Geier) and scientist, not-yet-governor Dixie Lee Ray (acrobat Sandra Feusi).
The highly accomplished acrobats, all Cirque du Soleil alums, include Phi performing impressive feats of strength and flexibility; former Ukrainian champion rhythmic gymnast, the exquisite Elena Gatilova, who doubles as Priscilla Presley; Rui Ling performing a daring solo strap act; and Feusi and partner Sam Payne dancing a breathtaking vertical tango on a pole.
"…and, dear reader, that was just the beginning to a literal Return to Paradise, the new, fabulous extravaganza from the folks at Teatro ZinZanni (literally, 'Theater Zanies') at Seattle Center. It brings back the memories, the music, the menu, the good jokes, the bad jokes, the good songs (Elvis sings 'Love Me Tender' to the steak), and the bad songs of the early 1960s. The new and wonderful house band is named the Honey Tongues – yes, it is 'that kind of a show.' And what a show it is."
Milton W. Hamlin – SGN A&E Writer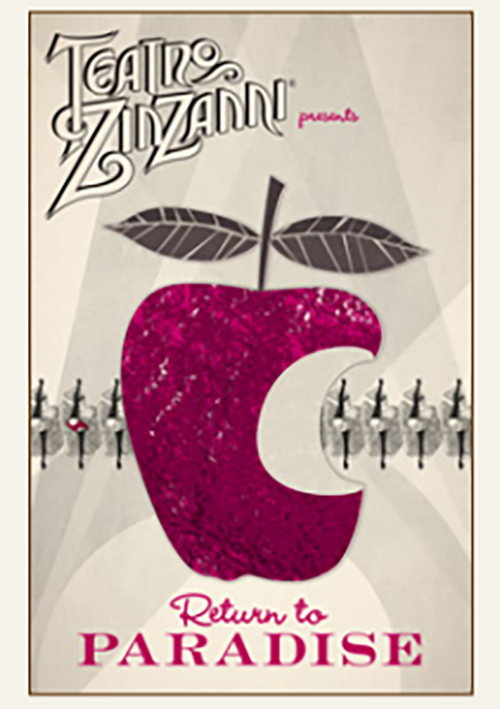 Hi, Darlings! Remember Me?
Feinstein's, New York, NY, April 9, 2012
Liliane Montevecchi is exquisitely French, like the finest vintage champagne. Her enchanting autobiographical one-woman show is full of amusing personal stories and legendary songs such as "La Vie En Rose," "My Man," "You Don't Know Paree," "Irma La Douce," "Ne Me Quitte Pas," and "Folies Bergere." Liliane truly is a life force to be reckoned with.and has just returned from appearing on the road with both this year's Bistro Awards Lifetime Achievement Award recipient Kaye Ballard and Lee Roy Reams in the musical review Doin' It For Love.
She IS a Living legend, actress, dancer and diva, she is best known for her Tony Award-winning role in Tommy Tune's Nine and in Grand Hotel, Montevecchi's illustrious career spans four decades. Born in Paris, she joined Roland Petit Ballets as a prima ballerina at age 18, spent seven years under contract to MGM, appearing in movies opposite Elvis Presley, Marlon Brando and Fred Astaire and more.
Her most recent film is How to Lose a Guy in Ten Days, with Matthew McConaughey.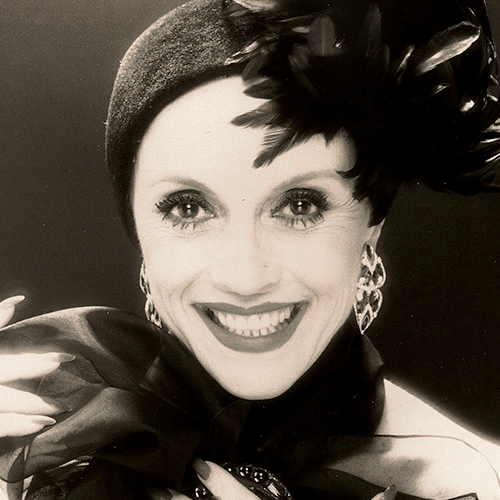 Bonsoir Liliane!
Teatro Zinzanni, Seattle, Sep 1, 2011
Welcome aboard our train of dreams! Teatro ZinZanni is excited to announce the debut of our original production, Bonsoir Liliane! directed by Broadway legend and nine-time Tony Award winner, Tommy Tune and co-directed and choreographed by Tobias Larsson, this all-new show pays homage to the extraordinary life of French dancer and Tony Award winning star, Liliane Montevecchi.
"Sometimes the stars are in perfect alignment and when they're named Tommy Tune, Liliane Montevecchi, Ariana Lallone, and Tobias Larsson, the result is a Teatro ZinZanni production unlike any that has gone before. With nine-time Tony Award winner Tune as director and Larsson as show developer-choreographer, "Bonsoir Liliane!" is more cabaret than circus and more dancing than death-defying stunts, although there certainly are a few of those. Tune and Larsson have created several pure dance numbers that showcase Lallone's towering physical presence and manage, even in ZinZanni's confined performing space, to allow her room to spread her wings, literally as well as figuratively."
– Alice Kaderlan, Crosscut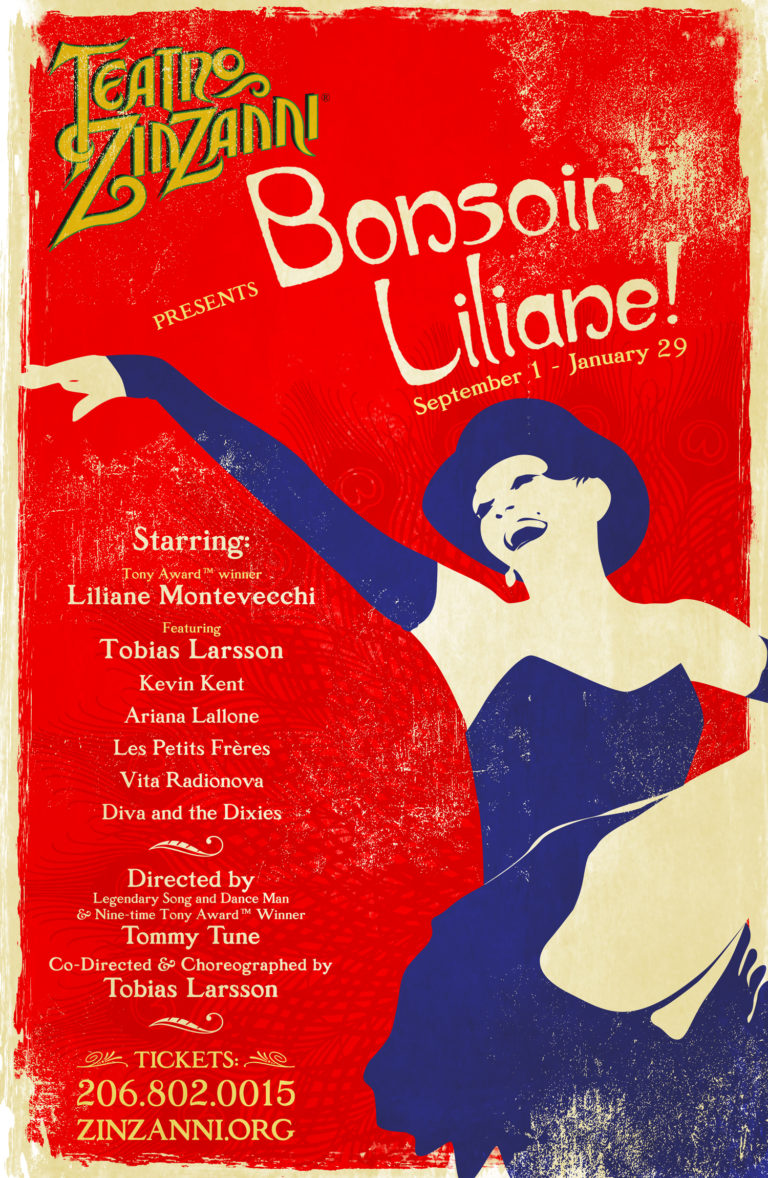 Hail Caesar! – Forbidden Oasis
Teatro Zinzanni, Seattle, May 12, 2011
Don't miss this colossal epic, directed and choreographed by Tobias Larsson and Norm Langill.
Music, laughter, romance and desire ensue when a resurrected Cleopatra sets her sights on a fast-talking, wise-cracking chef named Caesar.
Does Cleopatra's love for Caesar win out in the end? To find out, join the performers of Teatro ZinZanni for Hail Caesar!, a risqué romp through Egyptian history complete with Love, Chaos and… Dinner! 
Teatro ZinZanni presents Hail Caesar!, starring the irrepressible entertainer Frank Ferrante as Caesar and acclaimed aerialist Dreya Weber as Cleo, Queen of the Nile, and is Teatro ZinZanni's zany take on the love story between two of history's most famous lovers. Hail Caesar! features a hilarious and captivating international cast including juggler Joel Salom; hand-balancer Elena Borodina; trapeze artists Ssens Duo; the exceptionally talented juggler and rola-bola artist Bernard Hazen, and the operatic talents of Juliana Rambaldi and Victor Benedetti.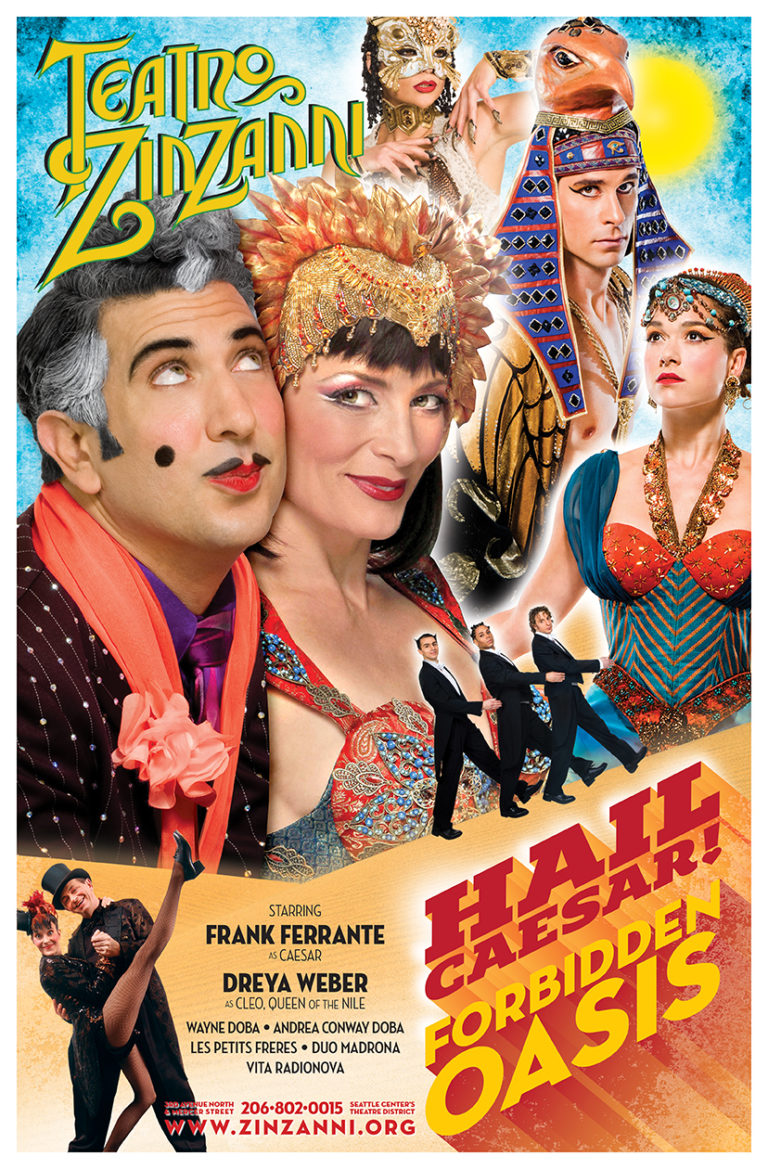 Hail Caesar!
Teatro Zinzanni, San Francisco, Aug 19, 2010
Teatro ZinZanni presents HAIL CAESAR! featuring the irrepressible Frank Ferrante as Caesar and acclaimed aerialist Dreya Weber as Cleo, Queen of the Nile. Music, laughter and desire ensue when a resurrected Cleopatra sets her sights on a fast-talking, wise-cracking chef named Caesar. Toss in brilliant improv, stunning aerial acrobatics, spicy subplots, wonderful music and a five-course meal delivered by servers in satin bustiers. Top it off with "love powder" and let yourself laugh hard.
The cast also includes Vertical Tango, Tim Tyler, Christine Abraham, Ming & Rui and Alexa Hukari.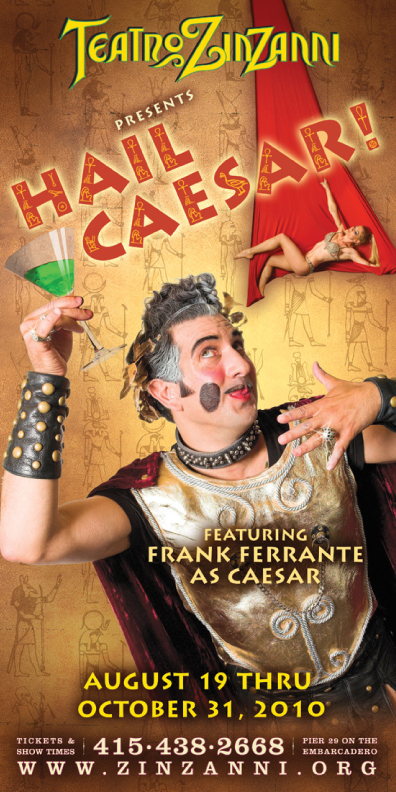 La Cage aux Folles
Arbis Theatre, Norrköping, Sweden. Dec 31, 2009
Book by Harvey Fierstein and lyrics and music by Jerry Herman. The Arbis Theatre celebrates 140 years with this smash hit production of La Cage aux Folles! Directed and choreographed by Tobias Larsson this production is a must see for all theatre goers in the region. The musical's original 1983 Broadway production received nine nominations for Tony Awards and won six, including Best Musical, Best Score and Best Book. The success of the musical spawned a West End production and several international runs.
"In particular, the transformation scenes captivate, when Robin Karlsson as Albin / Zaza exposes his vulnerability behind the glittery finish. The full-fledged stage goddess appears as an undressed man with weaknesses and flaws.
The seriousness is mixed with humor, and the evening's funniest part is when Mattias Schönbeck's George gives a lesson in masculine behavior. But La Cage aux Folles is not a pure comedy or drama, it is especially a treat to all those who love musicals and theater. It is filled with impressive costume splendor, tilting plumes, glitter, magnificent hats, grand and exuberant dance numbers. The famous song "The best of Times" becomes a catchy song number and is presented with panache. A warmth to carry out in the winter chill."
Sara Schüldt, Folkbladet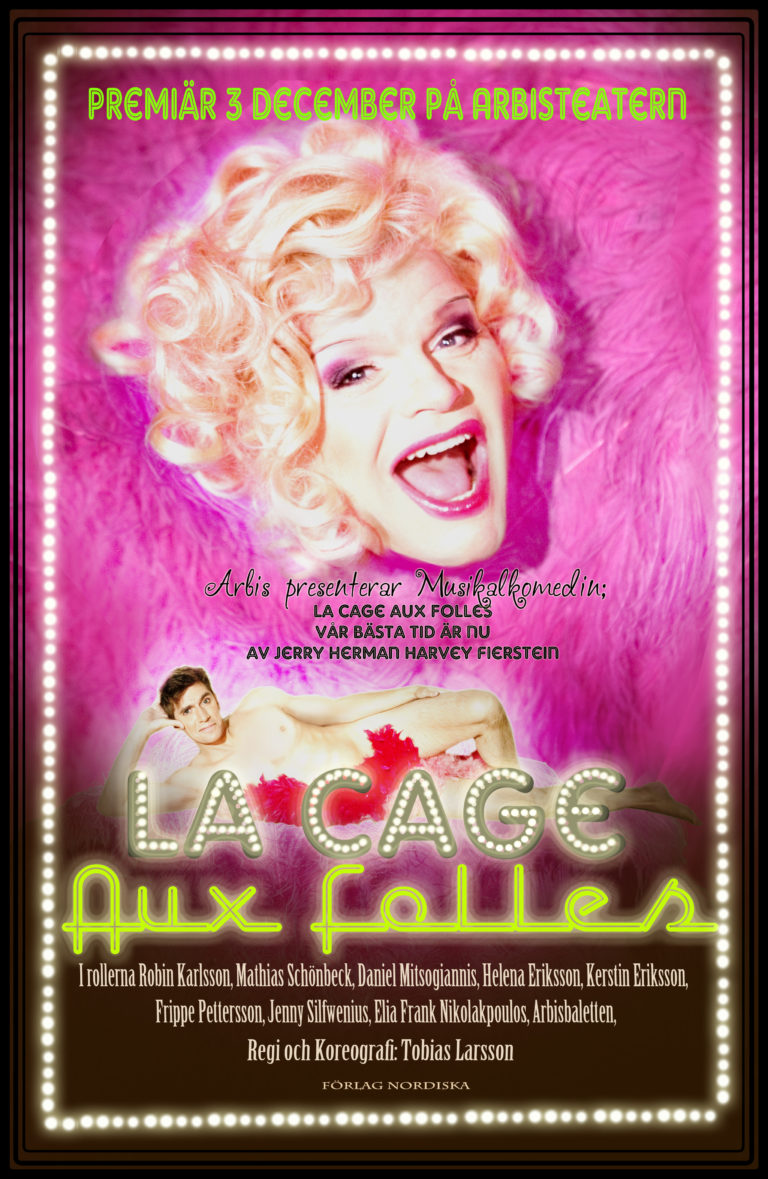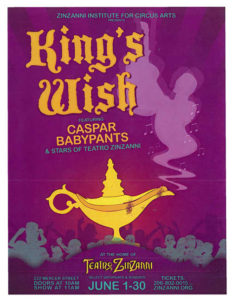 King's Wish
Teatro Zinzanni, Seattle, June 1, 2013
Bring the kiddos to Teatro ZinZanni's historic spiegeltent for another all-new family production featuring Seattle "kindie" sensation Caspar Babypants. With live sing-a-long favorites from Caspar Babypants' kiddie repertoire, this kid-oriented circus spectacular will feature performers from Teatro ZinZanni's renowned dinner shows as well as Seattle's circus stars of tomorrow.
Caliente!
Teatro Zinzanni, Seattle, Feb 2, 2012
Mexico meets Moulin Rouge!. TZZ's new production features a cast rowdier than a pack of college kids on spring break in Cancún. The Latin-themed dinner show sounds like a potential disaster, but ¡Caliente! is an epic party well worth the steep cover charge.
The story is, well, plausible: A pair of bigwigs want to tear down a dinner tent and transform it into mixed-use development—with not one but two Trader Joe's! But the determined kitchen staff refuses its pink slips and vows to change the entrepreneurs' minds with, yes, a musical/cabaret extravaganza.


"Leading the three-and-a-half-hour spectacle are Tres (Christine Deaver) and Cinco (Robert Lopez, aka El Vez ), an overeager sister/brother act intent on becoming become "the Mexican Donny and Marie." To that end, they sing, dance, and harass the audience. (To wit, my date was forced to prove his manhood by chugging tequila and galloping in circles on a stick pony while rocking a sombrero and fake handlebar mustache.) Rounding out the comedy is a slew of international acts, many of them TZZ veterans: French acrobatic trio Les Petits Frères, Ukrainian hula-hoop artist Vita Radionova, and Chinese aerialist Ling Rui. But it's Atlanta's Mike Geier, in his first-ever TZZ gig, who appears the most foreign. At 6´8″, he's a beast of a man with a baritone voice reminiscent of Elton John's. If those pipes sound familiar, it's likely because you've heard him on the Cartoon Network and Adult Swim."
– Erika Hobart, Seattle Weekly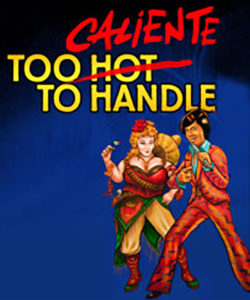 Caliente
Teatro Zinzanni, San Francisco, March 10, 2011
Christine Deaver and Robert Lopez (El Vez) play a brother and sister who lead a rebellion of our International Cast (playing our kitchen staff) in their efforts to live out their show biz fantasies in the Spiegeltent. Christine and Robert want nothing more than to be the Latino Donny & Marie (she's a little Country, he's a little Rock & Roll). Our Chanteuse is played by Rebekah Del Rio, of "Mullholland Drive" fame. Audience favorites Les Petits Freres, Vita Radionova, Ling Rui return to the Spiegeltent and dancer Ann Bernard makes her debut with Teatro ZinZanni. Directed by Ricardo Salinas and Choreographed by Tobias Larsson.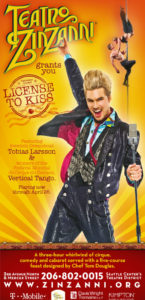 License to Kiss
Teatro Zinzanni, Seattle 2010.
Sven from Sweden, MC/host and Teddybear.
Teatro Zinzanni from the outside gives you an idea that you are in for something special, the look of a multi-colored tent comes to mind. Inside, you experience some place a little bit European, a little bit the twenties, a little bit gypsy and "Dorothy, you and Toto are not in Kansas anymore". During the leisurely five course dinner, License to Kiss, "The Big Bang Theory, with a Cherry on Top", leads the diners through a story full of mystery and mayhem. The cast of actors, and this includes the musicians, each and everyone, bring with them an exceptional list of local, national and international credentials. License to Kiss, with the "House Band" setting the mood and ambience, is a combination of zany pranks, elaborate costumes, heart rendering songs, toe-tapping dances, sensual and daring aerial performances, plus a wide variety of audience participation.
"Swede, Tobias Larsson is making his debut here and he is something TZ has been lacking, a little piece of fresh meat for the ladies to eye. And eye him they did, as Tobias charmed and gushed through songs, the occasional love scene and some light comedy, all of which he did superbly while just being Tobias.
But if there are any moments of Tobias that will stay in the mind for longer than others, it was his teddy bear's tightrope and his breathing life back into the immortal Lappish protest anthem Sámiid Ædnan. Tobias balanced himself delicately on a tightrope, juggled skittles and even rode a unicycle while enveloped in the most enormous inelegant teddy bear costume."
– Steve Clare, Seattle Fine Arts Examiner
"- a life-size teddy bear dancing on a high wire that is truly beautiful to watch."
Eric Andrews-Katz, Seattle Gay News
"-Larsson, who rode a unicycle across a tightrope dressed as a bear (impressive, albeit weird), was surrounded by female admirers in the lobby post-show."
Erika Hobart – Seattle Weekly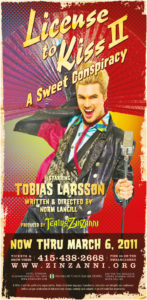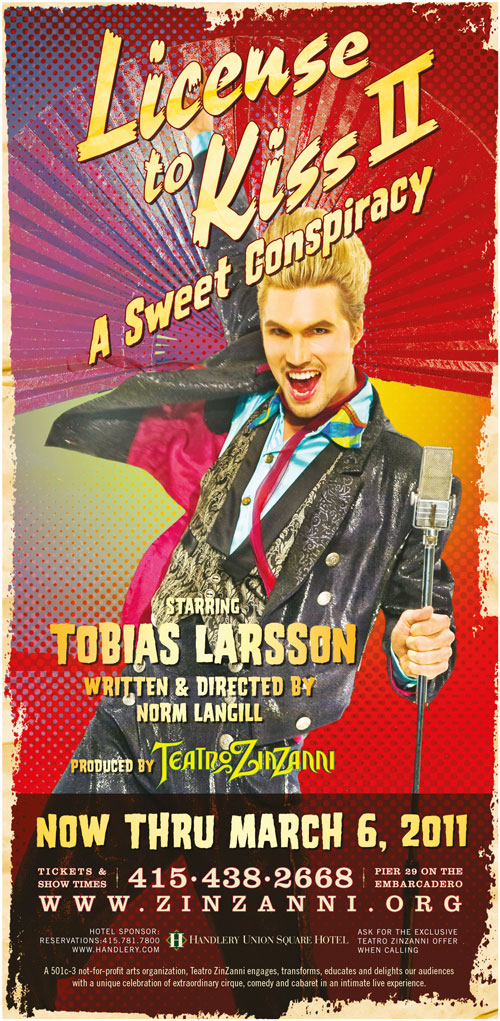 License to Kiss II
Teatro Zinzanni, San Francisco 2010/2011.
Sven from Sweden, MC/host, Bandleader and Teddybear.
Set along San Francisco's historic waterfront, Teatro ZinZanni is a bewitching evening of European cabaret, cirque, divas and madmen, spectacle and sensuality with live music and a gourmet five-course dinner — all in the nightclub of your dreams! Teatro ZinZanni introduces License to Kiss II, A Sweet Conspiracy. The beautiful Spiegeltent turns into a den for intrigue, espionage, and the candy-coated collusion. In the end, merriment and chaos reign, giving us all a License to Kiss!
"Crazy, crazy fun acts and characters abound. Nordic vampiric MC, a manager á la Riff Raff out of Rocky Horror, a squeaky voiceed Magenta in love with DICK, a pastry chef with Peter Lorre's persona, a stunning hot girl on the flying trapeze, an enormous Teddy Bear walking the tightrope, a Bette Midler-esque soprano émigré from the Merola program, tap-dancing that makes you forget Savion Glover, touching duets. There is so much shtick in tandem that if you don't like one, wait a minute and you'll love the next one. Acts flow seamlessly and seemingly as endlessly as an extended family of clowns exiting a VW."
– John McMullen, The Berkeley Daily Planet
"The talent in the show is so dazzlingly eclectic, and features an array of some amazing vaudeville and cabaret style entertainment. The comic timing, grace and skill of Tobias Larsson was on full display during his tightrope walk wearing a gargantuan furry costume."
– David John Chavez, San Jose Theater Arts Examiner
Debuting with Teatro is Tobias Larsson, who alternates between his tightly clad heartthrob persona and an adorable Teddy Bear who manages to walk, unicycle and juggle on a tightrope. This is definitely one of Teatro Zinzanni's more entertaining shows where merriment and chaos reign throughout the opulent tent at San Francisco's Pier 29, giving everyone a "License to Kiss".
– Sally Hogarty, San Jose Mercury News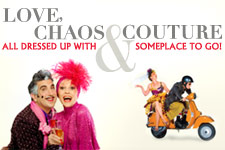 Love, Chaos & Couture
San Francisco May 20, 2010
How do you put a fresh spin on a San Francisco favorite? Add a splash of Parisian glamour and mix in some haute couture. Teatro ZinZanni, the long-running production now in its tenth year, livens up the show with a fashionable twist guaranteed to appeal to fashionistas and style novices alike. The latest Teatro ZinZanni dinner theater show, Love, Chaos and Couture, proves once again why this circus troupe is so wildly popular. With living legend, actress, dancer and diva, Liliane Montevecchi returns to San Francisco as Madame ZinZanni. Best known for her Tony Award-winning role in Tommy Tune's Nine and in Grand Hotel, Montevecchi's illustrious career spans four decades. Born in Paris, she joined Roland Petit Ballets as a prima ballerina at age 18, spent seven years under contract to MGM, appearing in movies opposite Elvis Presley, Marlon Brando and Fred Astaire, and more. Her most recent film is How to Lose a Guy in Ten Days, with Matthew McConaughey. She has starred in musicals such as Irma La Douce, Gigi, Hello Dolly, and La Plume de Ma Tante. Audiences have applauded her performances at Carnegie Hall, Radio City Music Hall, and at Lincoln Center in a concert version of Follies. On TV she guest-starred in more than 20 shows, and was nominated for an Emmy for Child of Our Time. She has taken her own highly acclaimed show On the Boulevard around the world, and played in prestigious cabaret venues including the Algonquin, the Russian Tea Room and Rainbow and Stars. She recently performed her one-woman show in London and gave a concert in Palm Springs. In Paris she received the Boulevard Award for her role as Mistinguett at the Opera Comique. She was honored as "Entertainer of the Year" by the internationally renowned charity Boys' Towns of Italy at their 64th Annual "Ball of the Year" Gala in April of this year. And yet she still has time for humanitarian work, for which the Knights of Malta knighted her.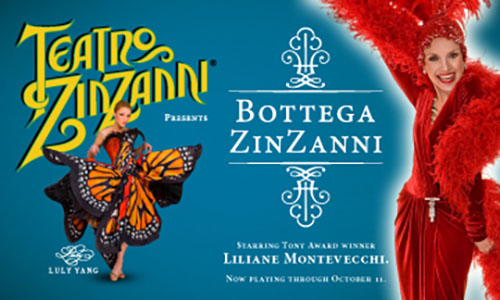 Bottega Zinzanni
Seattle June 25, 2009
The international cast is stellar. The legendary Tony Award-winner Liliane Montevecchi is spectacular in her role as the fashion forward Dina Monti. Frank Ferrante is the standout performer of Bottega ZinZanni. The American comedian is a master of ad-lib, delighting the audience with jokes as he picks audience members to join him onstage, telling each one of them how gorgeous they are. Ferrante's Caesar stole the show scene after scene. Seattle's own Rachel DeShon is an amazing opera singer with a beautiful voice. The three French acrobats, Les Petits Freres, put a new spin on The Three Stooges with an amazing acrobatic fight, a comedy scene in which they throw each other (and a suitcase) around. Vita Radionova, a contortionist from Ukraine, is mesmerizing to watch, whether performing a dance routine or a hula-hoop number, it is impossible to look away. Swiss acrobats Sam and Sandra perform a gravity-defying scene together, dancing a tango on a pole!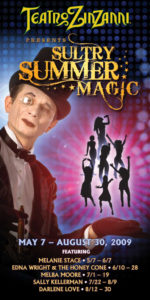 Sultry Summer Magic
Teatro Zinzanni, San Francisco, May 2009
In its tenth sensational season, Teatro ZinZanni continues its bewitching blend of European cabaret and cirque artistry, intertwined with a five-course gourmet dinner designed by Taste Catering, and presents Sultry Summer Magic. The show features an amazing roster of renowned singers in the role of hostess Madame ZinZanni; the return of the silent but eloquent audience favorite Ukrainian illusionist, Yevgeniy Voronin; and Bay Area juggler/comedian, Michael Davis as the Chef. It also introduces The Randols, an amazing high-speed rollerblade acrobatic duo making its United States debut. The exciting roster of singing stars who will play Madame ZinZanni includes British performer Melanie Stace, popular R&B and soul artists from the 1970s, Edna Wright and the Honey Cone, Tony and Grammy Award-winner Melba Moore, Sally Kellerman, star of screen, television and cabaret and rock hit-maker Darlene Love ("He's A Rebel," "Da Doo Ron Ron", "He's Sure The Boy I'm Gonna Marry"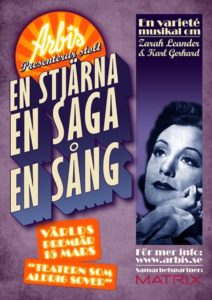 En Stjärna, en saga, en sång.
Arbis Theater, Norrköping, Sweden. March 15, 2008